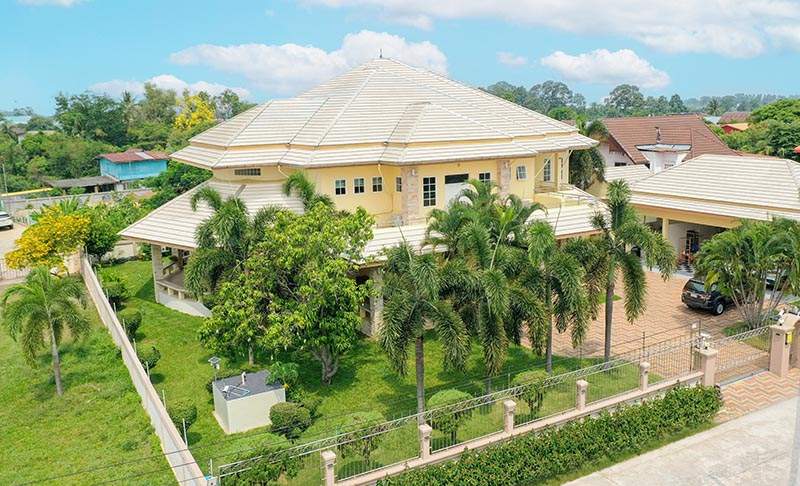 Arguably the most impressive home to hit the market this year in Satuk, the property at ​456 Satuk Samron Road​ is the ultimate dream home on an extended shared private driveway.
Owner Mr. Robert and his wife Mrs. Pin built the home from scratch after buying nearly one rai of prime land in 2005.
"I landed at the Buriram Airport with no intention of paying for land, but after touring most every Buriram Housing Estate, we came across this piece of land that had some of the best features we'd ever seen and after due diligence, visiting day and night. We realized this plot could be home," Mr. Robert said.
"I had not considered building before but it was apparent no other home for sale in Satuk was built in this modern style. We bought the land and all easements were signed off. We took four months coming up with in-depth design ideas before beginning the two-year build."
The couple employed a Bangkok Educated home designer, licensed architect, licensed engineer, and licensed electrician to design the home and moved to a rental house in Satuk, Buriram.
Mr. Robert, a retired San Francisco Bay Area business owner who was employed in management from July 2014 to May 2021 at Ruangsangthai Ltd, said he wanted to create a substantial home — not just in size — with all of the walls being thicker autoclaved aerated AAC blocks.
The two Kitchens are spacious and contemporary with a second, refrigerator, for entertaining, a Siemens cooktop, Fagor oven and three kitchen sinks. Honeywell | First Alert Connected Smoke alarms in every room of this spacious home provide peace of mind.
There is also a media room and home office, as well as a poolside living area and dedicated entertaining space inside at the grand staircase.
Mr. Robert  said the project was to be their forever home, but family circumstances meant the couple needed to move to his Thai wife's village compound.
"We thought this would be our forever home so we really haven't scrimped on anything," he said.
"The home buyer will be getting something of the very highest quality.The list of expat craftsmen that have installed or fixed any home building issues is a treasure trove of current phone numbers in Buriram Province.
There are some others property listing company below :
Related Posts