The land plot is freehold (Chanote) in a quiet pleasant location, on a western housing development in Buriram accessed by a government road. The plot measures 416 square metres, 19 metres wide by 22 metres long.
From the land there are many short cuts to Buriram town centre which is only 10 minutes away. Not far from the land is a PTT petrol station with an Amazon Café and a 7/11 convenience store. There is also a market every Tuesday and Sunday. In addition there is a convenience store within easy walking distance of the land.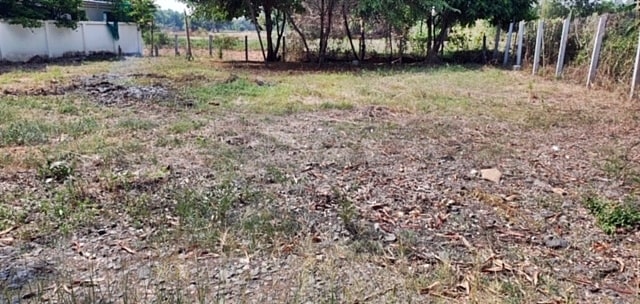 Buriram is accessed by Buriram Airport which is 20 minutes away by car from the development. There are daily flights to/from Bangkok via Don Mueang International Airport with both Air Asia and Nok Air serving Buriram. The flight takes about an hour. The homeowners' on the development frequently travel by air on business.
Buriram has a Robinson Lifestyle Center, which is a modern shopping complex just like you the ones you'll find in and around Bangkok. There are a number of restaurant chains, a movie theatre and a Tops Supermarket inside. A short distance away is a Major Cineplex part of Big C along with a supermarket and retail shops. There are also good schools and hospitals nearby. There is an excellent builders merchants nearby called Ruangsangthai.
Buriram United Football Club plays their home games at the Chang Arena. The facility was the first football dedicated stadium to meet FIFA and AFC standards in Thailand.
Behind the stadium is the Chang International Circuit. The race circuit hosts the annual PTT Thailand Grand Prix and an international Moto GP race. The circuit also hosts a number of other racing events throughout the year as well as some large concerts and festivals.
You need to setup the Yelp Fusion API.
Go into Admin > Real Estate 7 Options > What's Nearby? > Create App
Location
You need to setup the Google Maps API.
Go into Admin > Real Estate 7 Options > Google Maps